What exactly are ESSER funds?
President Joe Biden made history when he signed the American Rescue Plan into law, and $123 billion was committed to funding K-12 education in the US. Combined with the $72 billion from the COVID relief packages last year, schools have received close to $195 billion–this is the largest amount of federal funding that schools have ever received.
So what exactly are ESSER funds, and, more importantly, how can they be used?
The funding from the three coronavirus relief bills makes up what is called the Elementary and Secondary School Emergency Relief (ESSER) funds:
ESSER 1: The $13 billion for education from the first COVID-19 relief bill, the CARES Act. This bill was passed in March 2020.
ESSER II: The $54 billion from the Consolidated Appropriations Act (CAA). This bill was passed in December 2020.
ESSER III: Also known as ARP ESSER, this is the $123 billion from the American Rescue Plan. This bill was passed in March 2021.
All of these funds collectively are also referred to as the Education Stabilization Fund.
How can the dollars be used?
90% of ESSER funding will be distributed to districts based on how much Title I, Part A funding they receive. The funding can be spent on a variety of needs, including:
Building improvements designed to decrease virus transmission and improve air quality
Purchasing supplies to sanitize and clean buildings
Providing mental health services, supports, and meals during school closures
Purchasing educational technology (including hardware, software, and connectivity)
Addressing learning loss
Planning and implementing activities related to summer learning
Closing the homework gap by narrowing the digital divide
Acceleration for at-promise students
Where can I learn more about ESSER funds in my state?
Every state is different, so it is important to stay informed with the most up-to-date information. You can use the below resources to determine how much ESSER funding your state has, and what it can be used for:
Can I use my district's ESSER funds for better PD?
Although there are some guidelines for how to use a small percentage of the funding, there is great flexibility in terms of how school districts can spend their ESSER dollars. One specific area of focus is on Professional Development for your teachers. With the start of the 2021-2022 school year, along with the unprecedented mental health and social-emotional challenges that teachers have to tackle, spending your remaining ESSER funds on PD is the best decision you can make for your district.
That's where Brain Power Academy can help. We created PD Parties especially for your district's needs.
But, what is a PD Party?
A PD Party is a radically interactive Professional Development experience for your teachers that will keep them engaged, and restore some of the professional and social interactions that we have lost in the pandemic. It's social, engaging, interactive PD that is facilitated by a team of neuroscience PhDs, doctors, and former teachers. And the best part? We handle it for you entirely, end-to-end. Don't worry about any of the logistics with old PD — just book your PD Party date:
"PD Parties are THE BEST OF BOTH WORLDS – with all the benefits of digital PD (but without the downsides), plus the social and interactive nature of in-person PD."
– Assistant Superintendent in Massachusetts
A report from TNTP showed that schools spend an average of $18,000 per teacher a year on professional development. As schools shift their focus on addressing the needs of teachers and students post-pandemic, the amount of money spent on high-quality professional development will and should increase. Teachers will need to be best-equipped to support their students' needs during such a critical time.
Before schools can even begin to address the academic deficits that are a result of the COVID pandemic, they need to consider the mental health and social-emotional needs of students, as well as their teachers. Learning is going to be a challenge for students who feel insecure and detached. Similarly, teachers are not going to be able to support their students if they do not feel equipped with the right tools and resources.
Brain Power Academy's radically interactive PD Parties can provide your district with solutions to addressing these needs!
Our Professional Development topics address the challenges that every school administrator is thinking about:
Teacher and Student Mental Health
Post-Pandemic Return
SEL Debt Crisis
Stress & Anxiety
Executive Functioning
Student Motivation
And more!
How can I use my district's ESSER funds to address learning loss and students' social emotional needs?
With the return to in-person learning, the main concern schools are facing is learning loss, and schools are required to show that they are addressing this issue for all students. In order to effectively address learning loss, teachers first need to acknowledge social-emotional loss –the SEL Debt Crisis– that is upon us. Both students and teachers are coping (or struggling to find ways to do so); it is important to provide them with the tools to overcome both learning and social-emotional loss. More than ever, teachers need professional development opportunities to gain the skills, strategies, and resources they need to best support all of their students during such a critical time. Your district ESSER funds can be used to purchase Brain Power Academy's high quality professional development that addresses the crucial needs of both teachers and students.
4 ways our PD aligns to ESSER funding priorities
Ninety percent of ESSER funding will be distributed to districts based on their relative share of Title I, Part A funding. The funding can be spent on a variety of needs, including:
Mental health services and supports: Brain Power Academy's self-paced courses and PD Party professional development focuses on topics addressing today's challenges, including stress management and mental health for both teachers and students.
Providing principals and other school leaders with resources to address individual school needs: All of the Brain Power Academy professional development offerings include practical and evidence-based resources for both individual teachers, schools, and entire school districts.
Training and professional development for district staff on any topic from effective remote learning strategies to sanitation and minimizing the spread of infectious disease as in-person school resumes: All of the Brain Power Academy's self-paced courses and PD Parties focus on topics addressing today's challenges and the current state of education. Areas of focus include social-emotional learning, stress management and mental health for both teachers and students, remote learning, and more.
Title II, Part A – Professional Learning; Teacher laptops, online supports and training, software, stipends for planning: Brain Power Academy's professional development is online and is designed to provide teachers with professional learning opportunities to gain the tools and resources they need to support their teaching and their students. Our PowerPD courses are self-paced, allowing teachers to take courses online at a time convenient for them. Our PD Parties are radically interactive, engaging, and collaborative Professional Learning where teachers feel the learning-party social vibe in interactive digital breakout sessions, discussions, polls, and more!
How long do you have to use the ESSER funds?
ESSER funds are available through September 30, 2022. The State Educational Agencies (SEAs) began receiving funds from the Department of Education in the spring of 2020, and funds were distributed to Local Educational Agencies (LEAs) between April and June of 2021. SEAs must award ESSER funds to LEAs within one year of receiving the state allocation. Any funds that SEAs fail to award by the one-year deadline must be returned to the Department for reallocation consistent with the CARES Act.
Similarly, ESSER II funds are available for obligation by SEAs through September 30, 2023. SEAs must also award ESSER II funds within one year of receiving them.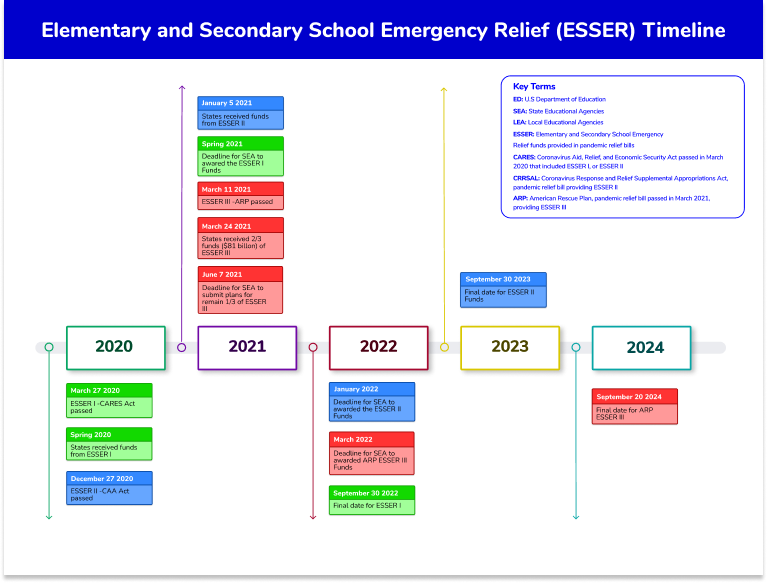 So what are you waiting for? Use your ESSER funds to book a PD Party today! We'll provide your district with PD that will feel like a party:
Here's just a few state organizations that we've partnered with: