Student & Teacher Mental Health Post-Pandemic:
How to Avoid a Decrease in Executive Functioning and Increase in Anxiety
A PD Party brought to you by NELMS, PAMLE, and Brain Power Academy
The PD Party scheduled for October 23 – 24 has been postponed to the spring. We will make a further announcement once the new dates have been decided.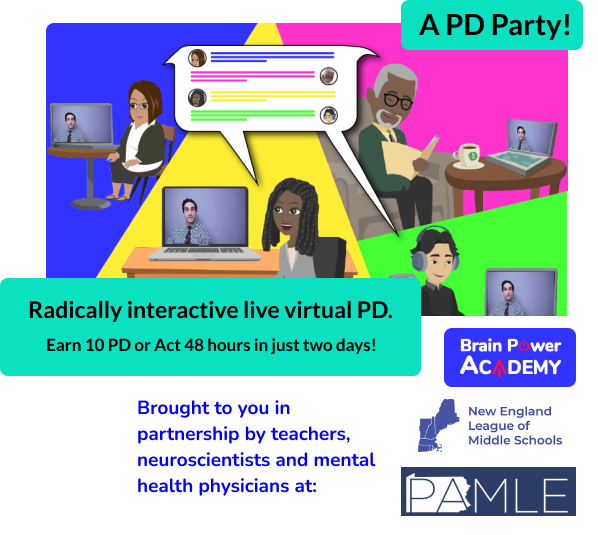 The path to learning and a calm classroom, remote or in person, is a calm brain. The disruption of our students' routines during COVID-19 has had a serious impact on their executive functioning skills – the core of SEL. As our students (and teachers) return to the classroom, we face a crisis of SEL Debt. It will be more important than ever to equip them with the skills to self-regulate, understand each other, and develop the brain functioning and social skills that will help them adapt and succeed. As always, the most vulnerable will be at greatest risk, but the perils of SEL Debt apply to everyone.
​​​​​​​Join our expert panel of teachers, neuroscientists, and mental-health physicians in this two day "PD Party" covering Executive Functioning, SEL Debt, and mental health. In addition to world-class evidence-based content presented in modern, augmented videos, you will feel the learning-party social vibe as you synchronously learn stimulating material with dozens or hundreds of your colleagues, then interact in digital breakout sessions, expert-facilitated discussions, instant polls & quizzes, and more. 
​​​​​​​Explore the key science & research behind mental health and executive functioning – including the impact of trauma, autism, & ADHD. Uncover the most effective stress management and executive functioning strategies for teachers and students of all abilities and ages. Learn to distinguish the myths and realities around executive functioning. Throughout it all, acquire practical strategies and dozens of useful handouts and exercises that you can apply with your students tomorrow!
The key science & research behind stress and executive functioning

Managing the return to the classroom, and recovering from a crazy year. 

The impact of trauma, autism, & ADHD on executive functioning and mental health

The most effective strategies for developing students' executive functioning skills

Strategies to support a trauma-informed classroom

Information and strategies delineated for different abilities and ages 

And more!
Below is our tiered pricing for NELMS and PAMLE members and non-members. 
| | | |
| --- | --- | --- |
| | Member | Non-member |
| Individual | $200 | $250 |
| Team (up to 5) | $550 | $850 |
| Group (up to 10) | $850 | $1250 |
Interested in bringing a PD Party to your entire district? Have your district book a Brain Power Academy PD Party for your upcoming Professional Development days, and receive a color printer and laminator for your classroom! 
Keynote Instructor
Dr. Vahabzadeh is a Harvard Medical School based physician, trained in both medicine and psychiatry. He is the former Chair of the Council on Communications of the American Psychiatric Association (APA) and a consultant to Khan Academy, Neurolaunch, and Anthem. Dr. Vahabzadeh has published extensively in clinical neuroscience and neurobiology, and has over 20 awards, including from the APA and the American Medical Association.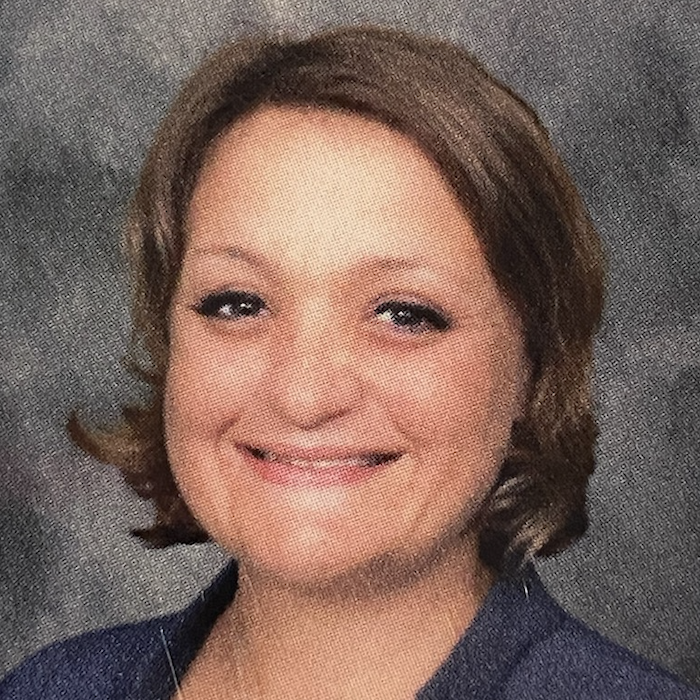 Keynote Instructor
Dr. Jessica Clark is an experienced administrator in both public and private school systems across New England. With an initial background as a special educator, Dr Clark is also a Board Certified Behavior Analyst and the Director of Instructional Support and Specialized Treatment Programs for the public school setting in which she is currently employed. Dr. Clark is a former consultant and worked with schools across New England in the coordination and implementation of school-wide behavioral and educational interventions.  Dr. Clark has a depth of experience and knowledge around response to intervention, positive behavioral supports, school-wide interventions for academics, behavioral needs and executive functioning initiatives.  Dr. Clark's research and interests include the application of Applied Behavior Analysis in the determination of effective environmental supports for students that exhibit challenging mental and behavioral deficits.
Keynote Instructor
Dr. Thomas Ralston is the Director of the Forum for Western Pennsylvania School Superintendents at the University of Pittsburgh.  Dr. Ralston served as the Superintendent of the Avonworth School District in the Greater Pittsburgh area for nine years. During his career, Dr. Ralston served as a middle school teacher for seven years and a middle school principal for 15 years.  In 2010, Dr. Ralston was named Administrator of the Year by the Pennsylvania Association of Middle Level Education.  He was also named as the 2017 Distinguished Educator by the University of Pittsburgh Tri-State Area School Study Council and in 2020, he was named as the Outstanding Superintendent by the Pennsylvania Music Educators Association.  Dr. Ralston is a member of the Remake Learning Council, a graduate of Leadership Pittsburgh XXXII, and has participated in Harvard University's Young American Leaders Program.